BoostValve More Information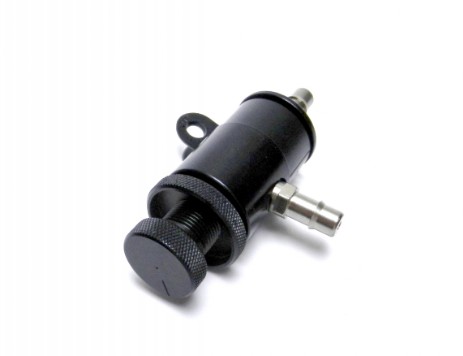 Quick boost adjust
No need for any tools to set the boost. Simply loosen the knurled lock ring, dial in your boost setting, tighten and you're done.
Integral Mounting Clip design
The valve body is grooved for a lightweight aluminum clip that easily snaps around the valve to hold it securely in place.
The design allows multiple turns of the adjuster to give an increased range of boost adjustment.
Easy to replace 10-32 threaded fittings on the inlet and outlet ports. High quality nickel plated, o-ring sealed fittings for durability and zero chance of boost leaks.
A small detail that
makes the BoostValve better than many of the other boost controller designs. This
allows it to release air trapped in the waste-gate line after turbo boost pressure drops. Many hours of testing led us to the correct port size.

For vacuum controlled waste-gate setups such as the VW VNT turbo diesel and Mini Cooper 1.6L turbo use a non-vented cap for a completely sealed valve.